Research Development Staff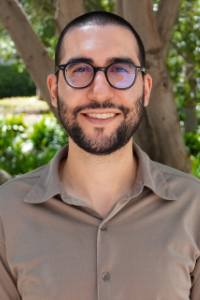 Justin Sarkis, MS
Research Development Lead
Phone: 949-824-9698
Email: sarkisj@uci.edu
Office: Hybrid / 5214 Natural Sciences II
In March 2020, Justin joined Research Development in the School of Biological Sciences. As Research Development Lead, he enjoys helping all researchers in the School acquire funding for research and training through proposal development.
Before coming to UCI, Justin worked in business proposal development at Clean Energy Fuels in Newport Beach. He holds a Master of Science in Psychology from the University of Michigan, as well as Foundation-level Certification from the Association for Proposal Management Professionals.
Outside of work, Justin avidly listens to classical music and likes taking care of his plants and aquaria. He also adds more book titles to his reading list than he can keep up with.